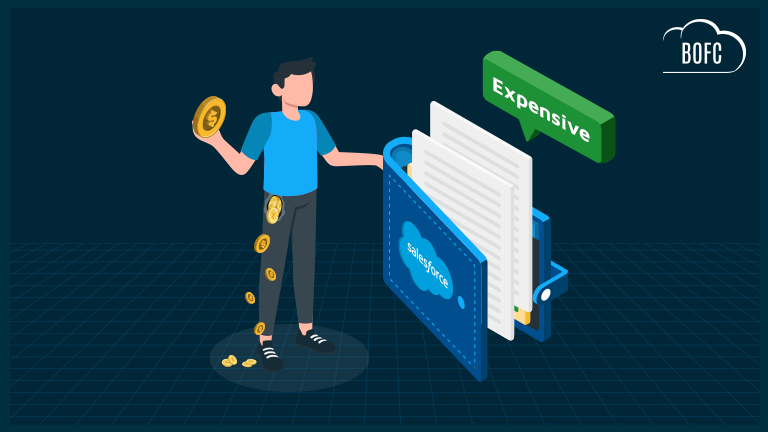 Are you now struggling with the storage & management of Salesforce files & attachments? Is the cost of additional Salesforce storage burning a hole in your pocket? Salesforce storage is a very expensive and impractical option for a huge number of files. We completely understand your problem and are here with the perfect solution—launching File ZIPO, a secure & cost-effective cloud storage solution for Salesforce.
Let's see the major challenges posed by Salesforce in storing files & folders, and how File ZIPO helps in overcoming them.
Salesforce Storage Challenges
Users have tons of Salesforce files & attachments, needing additional storage. Some major challenges in the management of Salesforce files & attachments are:
Default Salesforce storage is very limited.
Buying additional Salesforce storage is extremely expensive.
Users need to create file backups to clear up space in Salesforce org.
Creating backup manually is a tedious process. Users need to download individual files & folders one by one on their systems.
Post-backup, you have to delete files in the Salesforce org to free up space. Now, users cannot access these files on the org.
What if we have a solution that could change your Salesforce file management experience? Introducing File ZIPO, a native & cost-effective file storage platform.
What is File ZIPO?
File ZIPO is a life-changing application for Salesforce admins & developers that integrates their org with external cloud storage solutions, viz., OneDrive, Amazon S3, Google Drive, Dropbox & Box.com to facilitate efficient storage and file management. File ZIPO has the following benefits:
It saves cost as now you do not have to spend on buying additional Salesforce storage.
It is a doorway to unlimited file storage for your Salesforce org.
It's a secure application designed following Salesforce guidelines and integrated with reliable external cloud-storage solutions.
You can add multiple external cloud-storage accounts using File ZIPO.
It has advanced search filters that allow you to find files in Salesforce org using keywords, user, data, filename, etc.
It facilitates file management by recording which file is stored so that you can get the precise location of your files easily.
It allows user tracking by providing comprehensive reports on your files & attachments.
It's backed by 24X7 support so that you have an uninterrupted experience.
Features of File ZIPO
Sync your Salesforce files & attachments with one or more of your external cloud storage solutions. The synced files are all stored with external storage solution(s). You can still view & update them in your org.
Backup your Salesforce files & attachments of any size & volume using File ZIPO. This way, you can free up a lot of space in your Salesforce org & save that additional, burning cost. No need to spend on increasing that expensive Salesforce org storage.
Mass Download or ZIP files of single or multiple records in your Salesforce org in a few simple steps. There's no limit to file size or volume. You can ZIP & download files in a single folder or parent-child hierarchy format to facilitate efficient file management.
Merge files of any format (doc or PDF) into a single PDF in just a few clicks. There's no need to download every file individually on-premise to merge them.
Add files to your Salesforce org directly from external cloud storage platforms easily. It facilitates a smooth two-way movement of files, back & forth between Salesforce org & external cloud storage solutions.
File ZIPO is a revolutionary solution that saves you from burning a hole in your pocket on in-built Salesforce storage and provides an efficient, secure & cost-effective way to store Salesforce files & folders. Want to know more? Check out the File ZIPO website, or simply contact our experts. We'd be more than happy to introduce you to our new product and help you determine its use for your project.