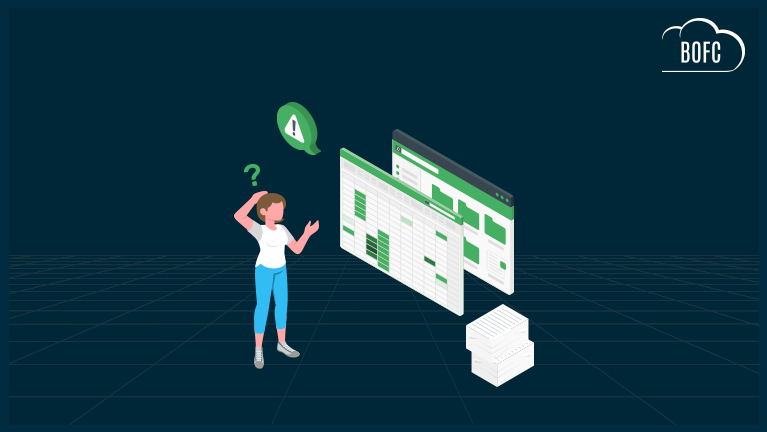 Salesforce Metadata operations are unavoidable & the biggest pain area of Salesforce admins & developers. These tasks require sheer manual work, a lot of time & no expertise, thus negatively affecting your team's productivity. You'll find them stuck between adding, exporting, deleting or updating thousands of Salesforce fields, objects, and other types of metadata one by one following the same set of steps each time.
But what if you could take that workload off your Salesforce admins/developers? What if they can perform these metadata operations in a few clicks? And how about doing these operations in bulk? Here are we with Bulk Object  Field Creator, the world's #1 Application for Salesforce Metadata Operations that is designed with all these features to revolutionize your Salesforce experience.
What Is BOFC?
BOFC (Bulk Object Field Creator) is a native Salesforce application that performs Bulk Metadata Operations in a few clicks. It is a one-of-its-kind app for Salesforce admins & developers that decreases their time spent on metadata management by 90%. Let's see how BOFC has actually helped its users in boosting their productivity:
1) Saves Time: BOFC helps in saving time by reducing the manual work that goes into metadata operations like:
Creating new fields & objects
Exporting objects, profiles, permission sets, process builders, Apex code, page layouts, validation/workflow rules, Salesforce limits
Finding & Deleting field references from multiple reports
Each of these tasks can take up days, but BOFC allows you to perform these metadata operations with just a few clicks & in a fraction of time.
What Users Are Saying?
David Smith (RANGER): "We were looking for an easy way to save ourselves time building fields manually and discovered BOFC, not only was this a great way to speed up object creation but we also found lots of other great tools like the Usage tool to enhance and keep our org healthy. Excellent value for money."
Karin Eisenmenger: "I needed to output all the specs for our 100+ Active processes and workflow rules. With BOFC, I was able to export the data in under 10 minutes instead of 4+ hours of manual entry into a spreadsheet. Great tool."
2) Facilitates Insightful Decision Making: It generates useful reports in a user-friendly format that help you in making insightful decisions. Here's how:
Comparing or exploring limits of metadata using the Salesforce standard process needs a lot of manual work and can be time taking as you manually need to gather information on each field, object, etc. BOFC allows you to select multiple fields, objects, etc. across different Salesforce orgs to generate comparison or metadata limit reports. You can download these reports in an XLS format and use the data to make organizational decisions.
What Users Are Saying?
David Storey says: "able to see "in one place" rules and triggers and actions without having to open multiple tabs or go back and forth."
Darrell Simmons says: "I am working on a project where we have to export and show our Salesforce database to developers and business analysts that do not have access to our Salesforce org. This tool gave us the ability to export field information, validation rules, process builders with all kinds of useful and detailed information from the object. What is more amazing is that it is in the spreadsheet format as if you created a report format yourself."
3) Customizable: BOFC meets the latest market requirements with constant updates. We always try to provide the best experience by enhancing its functionalities & incorporating user feedback, if feasible. In 2020, we made 26 updates to the application, including minor & major, that helped users boost their productivity with better functionalities.
What Users Are Saying?
Barb Dee, RANGER: "I reached out to Mohit whether or not fields on a given object were in use on various page layout(s). I was SHOCKED when he not only added the functionality I asked for, but he also reached out to me personally to let me know it had been added"
4) Point & Click: The application has a simple & organized interface with a point & click feature for performing various metadata operations within the Salesforce org, like downloading reports in CSV format or selecting all the fields in one click. You can also find numerous blogs & videos on every feature of BOFC for instant help.
What Users Are Saying?
Darrell Simmons: "It is simple to use and requires Admin level, not advanced developer level, knowledge."
Theodore Ray: "This tool is a huge time saver and has a fantastic user interface."
5) Great Support: It is known amongst the users for friendly support. Be it any query, the support team gets back to you within 24 hours and walks you through the solution in a detailed manner. Regular follow-ups are taken after resolving the issue to ensure the smooth functioning of the application.
What Users Are Saying?
Barb Dee, RANGER: "Most recently, I reached out because I didn't receive my activation key as per usual to my email. Of course, Mohit remedied the issue quickly…and he even took the time to follow up with me a few days later to see if I had any issues."
Jesse Heath: "I have dealt with the likes of Oracle and Salesforce support for almost 20 years and they cannot compare to this team. I would highly recommend this product to anyone."
It is a revolutionary application for all Salesforce admins & developers that helps them increase their productivity by many folds. It allows them to save time & make insightful decisions. For more queries about BOFC, you can write to us at contact us at https://bofc.io/#contact-form or mail us support@bofcapp.io. Our BOFC Expert will connect with you shortly.