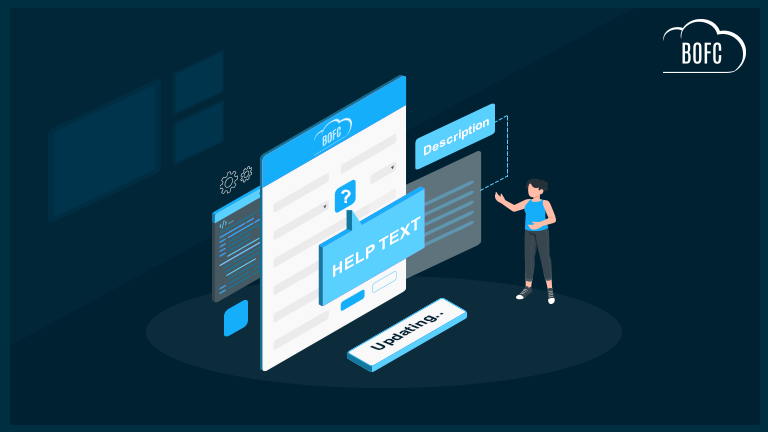 You must be having thousands of fields for multiple objects in your Salesforce org. This can cause confusion amongst your team of Salesforce admins & developers who are sharing the same org. Thus, adding/updating field descriptions & help text or any other property becomes important. But are you going to update all this Salesforce metadata manually?
Doing so can take you hours or even days, and sounds like a tedious & monotonous task. Let's make this task fast & smart for you with Bulk Object Field Creator (BOFC).
BOFC, the world's #1 Salesforce metadata application, allows users to "Update the Descriptions & Help Text" for multiple fields for multiple objects in one click.
Let's see how BOFC benefits the Metadata Operations:
Can I Update Multiple Fields in One Click?
Yes, you can update the descriptions & help text of multiple fields in one go using BOFC. Updating 200, 500, or a thousand fields in Salesforce org using the standard process can be time taking.
Adding description & help text to one field can easily take 1 min using the Salesforce standard process. With no default option to update the details for multiple fields in one go, the Salesforce admin has to do so for each field one by one. However, when you use BOFC, you can select & update multiple fields in one go with just a few clicks.
What all details can I update in a field?
With BOFC, you can update all the field attributes including length, description, help text for custom & standard fields in just one click. And not just for one, you can update the details for multiple fields (no limit to field volume) in one click. The task that could take you days of monotonous work can now be done within a matter of a few minutes.
Is it compatible with Standard or Custom Objects?
Yes, BOFC works with both standard & custom objects. So, irrespective of the object type, you can easily update the descriptions and help text and other field properties of fields for standard and custom objects using BOFC.
Does it support XLS & XLSX file formats?
Yes, BOFC supports XLS & XLSX file formats for updating field details. You can simply drag & drop your XLS/XLSX files with all the field details on the BOFC Field Update page & your information gets updated after the file is uploaded.
Click here to view Step by Step blog for "Bulk Update Fields" feature
BOFC is here to revolutionize the lives of Salesforce admins & developers by reducing the time taken to manage metadata operations by many folds. No matter whether it's adding, updating, deleting, exporting thousands of fields, objects, profiles or permission sets & so on, you can carry out bulk metadata operations in a few minutes. Connect with our experts to know more.
Have you have started using BOFC yet? Thousands of BOFC users have been able to save time & boost productivity using our Salesforce Metadata app. Click here to install the latest version of BOFC application in your Salesforce instance & explore its complete benefits for you.