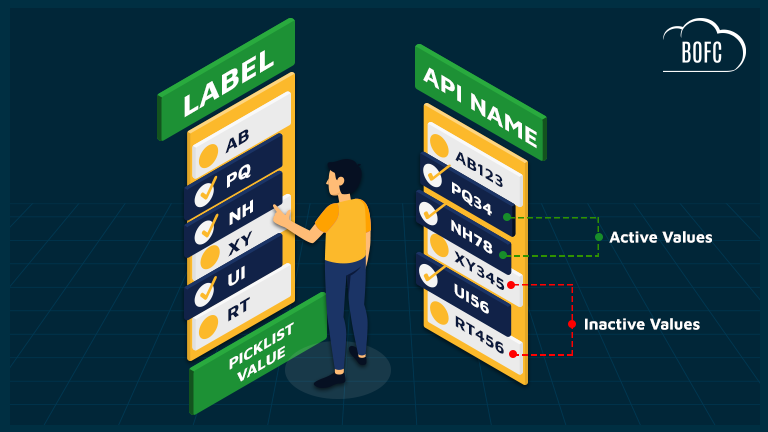 For admin or developer, if there is a requirement to Export "Active or Inactive or both" picklist values for multiple fields of different type (either Picklist or Multi-Picklist) or to export multiple Picklist Value Set (Global Value Set).
Solution
Exporting Picklist values for each field is a tedious and time taking job. In case, if a developer has to export picklist values for 400 Picklist fields, developer would have to open each and every field and copy its values in XLS.
These type of work requests would take much more effort and time, but with our Salesforce Appexchange Bulk Object Field Creator (BOFC) App user can export picklist values in few clicks.
Benefits of using BOFC Application
It can Export picklist values (Label & API name) for multiple "Picklist or Multi-Picklist" field for any Standard, Custom or Managed Object
It can Export picklist values (Label & API name) for multiple Global Picklist (Value Set) in single click
It can Export (Active or Inactive values) for Picklist, Multi-Picklist, or Global Picklist (Value Set)
Simple Point & Click UI only.
Note:
To avail this feature, kindly make sure you have installed the latest version of the application. You can upgrade your package using either of two ways:
In Salesforce, go to "BOFC Home > Settings > App Version > Click to Upgrade"

— or —

Refer the below button to quickly upgrade your package to the latest version and explore its complete benefits:
Stay up to date with the latest in BOFC - Latest features, offers, news, tips and more
Few Simple Steps to Export Picklist, Multi-Picklist or Value Set:
Step 1. Open the BOFC Home > Click "Export Picklist Values for multiple fields"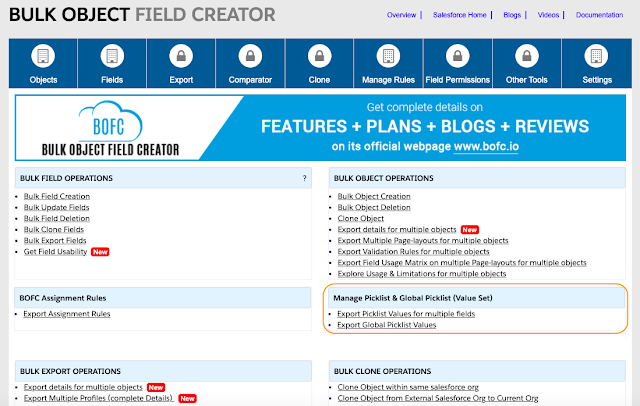 Step 2. It will open below screen

User can export "Active or Inactive" picklist values for different type of metadata:
Picklist / Multi-select Picklist Fields
Picklist ValueSet or Global Value Set
Step 3. Select "Export Picklist" and select the type of picklist values to export (Active or Inactive or Both)

Step 4. Select single or multiple objects for which picklist fields needs to be exported

Click on "Fetch All Picklist Field(s)" button.
Step 5. Select Single or Multiple Picklist or Multi-Picklist fields for which values needs to be exported

Finally we are ready with all the configuration and ready to initiate the process to Export.
Click on "Export Details" button.
Step 6. Once this blue button of "Export Details" is clicked, it will open a small section for Export Status.

Just wait for few seconds for the processing to complete. Once the processing is completed, it will update the status to "Completed" and it will enable the "Download" link as highlighted in below image.

Click on the "Download" link and it will export the XLS file with all the picklist values for the selected fields.
******************************************************************************
Have you started using BOFC yet? Thousands of BOFC users have been able to save time & boost productivity using our Salesforce Metadata app. Click here to install the latest version of BOFC application in your Salesforce instance & explore its complete benefits for you.
For any queries or suggestions, you can write your comment in the comment box or for further assistance contact us at https://www.bofc.io/#contact or mail us: support@bofcapp.io. Our BOFC Expert will help you get the best out of it.