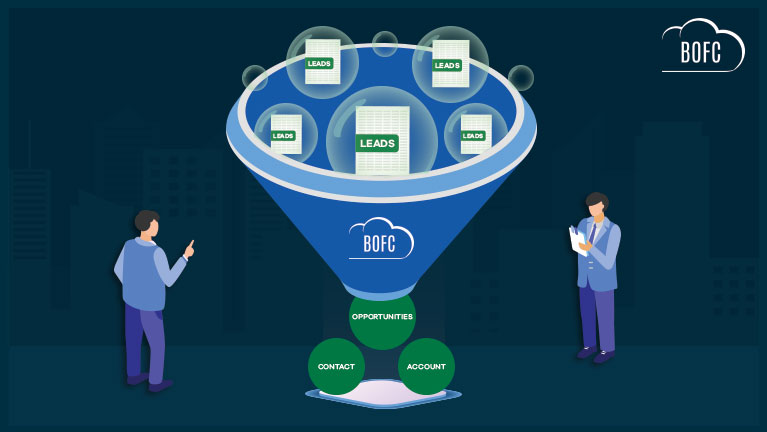 Idea
When a Prospect (or Lead) is converted in Sales Process, it is converted to Account, Contact and Opportunity. This process is performed manually on each Lead record by clicking "Convert" button at lead level, which is a time-consuming and a monotonous job for Salesforce developers and admins.
In order to convert 100 or 200 or 500 leads, such requests require a couple of days of effort.
Solution
Bulk Object Field Creator (BOFC) is a native Force.com app designed to help you overcome the above situation. BOFC can easily convert mass number of Leads in few simple clicks.
Quite.Easily.Done
BOFC application can convert 500+ Lead records in just 10-15 minutes. This would help users save time, reduce manual effort and increase productivity. BOFC application has a simple user interface which is extremely self-explanatory and easy to use.

Note:
To avail this feature, kindly make sure you have installed the latest version of the application. You can upgrade your package using either of two ways:
In Salesforce, go to "BOFC Home > Settings > App Version > Click to Upgrade"

— or —

Refer the below button to quickly upgrade your package to the latest version and explore its complete benefits:
Ways to Convert Mass number of leads in few clicks:
1. Goto BOFC Application and open "Bulk Lead Conversion" page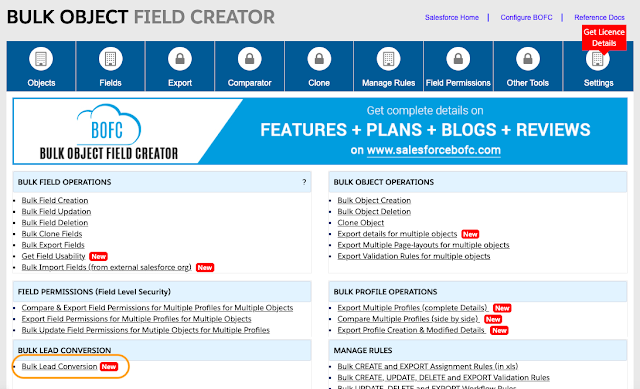 2. It will open this page for Lead conversion

3. This page has three options using which user can select the leads which needs to be converted
Use Salesforce Standard Report:

In this option, User can use Standard Salesforce report to fetch leads (which are NOT converted). They can directly use the report ID or report name. (Note: Make sure first column of report is "Lead ID" and "Converted=false" as report filter). Check this sample screenshot.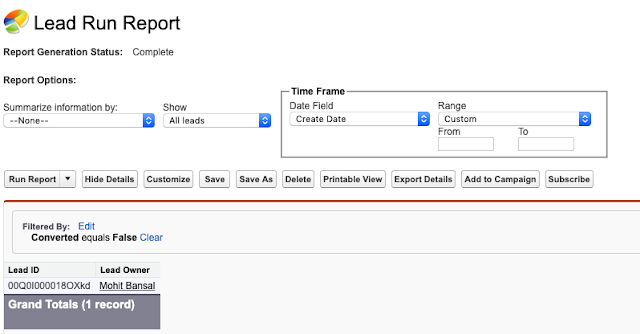 Import Lead IDs using XLS file:

In this option, user can upload lead IDs using a pre-formated xls or csv template. User can download template and then can upload its lead file once ready.

Show All Leads which are not converted:

In this option, system will display all the leads which are not converted in the order of Lead name.

4. We have detailed separate Blog & Video for each type of method, explained in step 3
Use Salesforce Standard Report
Blog: Click Here
Video: Click Here
Import Lead using XLS file
Blog: Click Here
Video: Click Here
Show All Leads which are not converted
Blog: Click Here
Video: Click Here
******************************************************************************
Have you started using BOFC yet? Thousands of BOFC users have been able to save time & boost productivity using our Salesforce Metadata app. Click here to install the latest version of BOFC application in your Salesforce instance & explore its complete benefits for you.
For any queries or suggestions, you can write your comment in the comment box or for further assistance contact us at https://www.bofc.io/#contact or mail us: support@bofcapp.io. Our BOFC Expert will help you get the best out of it.