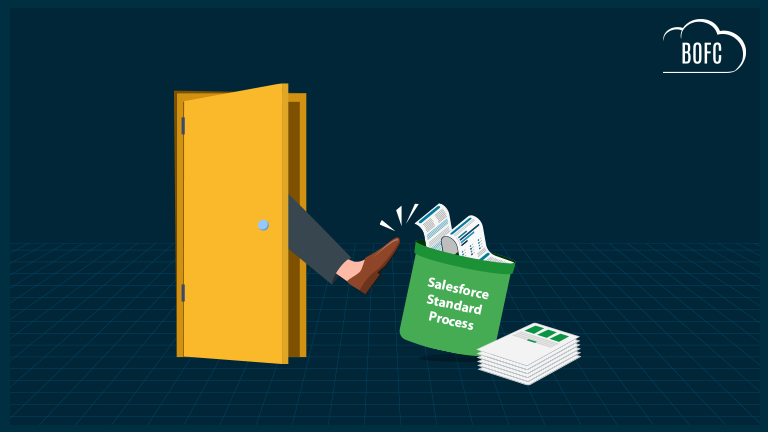 Are you still living by the Salesforce standard processes for metadata operations? We were too, however it got us thinking that why to stick to monotonous & tedious processes in this digital age. Salesforce standard processes do not allow you to process bulk metadata. Thus, if you need to work on thousands of fields, objects, permission sets, etc., then the task can take days or even weeks. The work is so monotonous & tiresome (and essential) that it does not leave any window to focus on complex tasks or improvement. Yes, we've been there done that, but at the same time decided not to give in, leading to a Salesforce evolution we now called Bulk Object Field Creator (BOFC).
BOFC is a native Salesforce app designed to simplify your metadata operations. How? For starters, with BOFC you can complete all your metadata tasks in a few clicks; no need to spend days over it. In this blog post, we're going to take you through some of the key features of this revolutionary application to provide you with a basic understanding of it.
Bulk Operations—Bye-Bye Monotonous Metadata Work
BOFC allows you to perform bulk operations in a go as opposed to the standard process where you have to perform metadata actions individually for each field, object, etc. While with the standard process, you'll have to create every field one-by-one manually, with BOFC you can create 1000s of fields in one go in a few clicks.
Save Time & Invest it Where it's Truly Needed
When you carry out bulk operations in a few clicks, you not just make your work easy & efficient but also save loads of time. To give you a clear picture, a simple task like adding 1000 fields in Salesforce can easily consume days from your schedule. But with BOFC, you can perform the same operations in a few clicks, saving so much of your time. Now you can use your time where it is actually required.
Point & Click Features—Could not be more user-friendly!
It has point & click features that allow you to easily select/unselect or perform various other operations. It also allows drag & drop operations so that you can simply pick your XLS file from your system & drop it into your Salesforce org to perform metadata operations without hassle.
Insightful Decision Making Made Easy
Salesforce admins often need to compare metadata between orgs or create reports on Salesforce limits (used, remaining or max) to make insightful decisions. Using BOFC, you can create such reports in a few clicks and even compare metadata between orgs with its simple side-by-side format. This facilitates insightful decision-making for efficient metadata management.
Dedicated Support for Uninterrupted Experience
The amazing application is backed by our dedicated support process to resolve all your queries. You can look into their extensive content bank containing engaging blogs, videos & more, or write to them for tailored support. You can even connect with the mastermind behind the application, Mohit, for a demo or query resolution. The aim is to ensure uninterrupted metadata management for users, and we definitely know how to nail it.
100% Security to Protect Your Org
BOFC is a native application that is designed following the protocols of Appexchange to provide 100% security against cyber threats. You can install it in your org without worries or concerns.
Conclusion
BOFC is trusted by over 35000 users across the globe & we're still counting. It has received amazing 205+ reviews from Salesforce admins/developers, including MVPs & influencers. It's changing the way they carry out metadata operations. Are you ready for that change? Get ready to simplify your metadata operations with BOFC, the world's #1 Salesforce metadata application. Connect with our experts to know more.