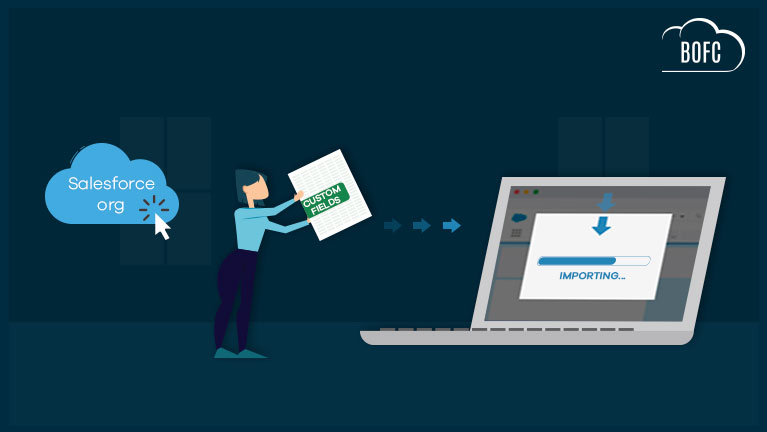 Idea
During an application development in Salesforce, user needs to create multiple new custom fields of different data types in various standard & custom objects. One Field creation in Salesforce is a 5 step process. Creating multiple fields is a time-consuming and a monotonous job for Salesforce developers and admins. In general, such requests require a couple of days of effort.
Solution
Bulk Object Field Creator (BOFC) is a native Force.com app designed to overcome the above situation. BOFC can easily create multiple fields by simply importing CSV or XLS or XLSX file to Salesforce or importing custom fields directly from external salesforce org.
BOFC application can create 500+ fields, of different field types, in just 10-15 minutes in one single go. This would help users save time, reduce manual effort and increase productivity. BOFC application has a simple user interface which is extremely self-explanatory and easy to use.
Major Features for Bulk Field Creation includes:
Create fields for Multiple objects at the same time.
Import Custom Fields for any kind of object from External Salesforce org
Supports CSV, XLS, and XLSX Format- Drag Drop a CSV or XLS or XLSX files which contains a list of new fields to be created.
Assign FLS for multiple profiles & multiple fields in single Click
Assign newly created fields to multiple layouts
Error And Validation Support- Application effectively guides a user in field creation and provide error description.
Support Multi field type- You can add multiple types of fields at the same time in a single go.
Restricts Identical fields- App will restrict a user to create duplicate fields which already exists
Option to choose which fields need to be created from the list of fields.
Columns are enabled or disabled depending upon field type.
Note:
To avail this feature, kindly make sure you have installed the latest version of the application. You can upgrade your package using either of two ways:
In Salesforce, go to "BOFC Home > Settings > App Version > Click to Upgrade"

— or —

Refer the below button to quickly upgrade your package to the latest version and explore its complete benefits:
Steps to Create Multiple Fields in multiple objects:
1. Goto BOFC Application and open BOFC Field Creation page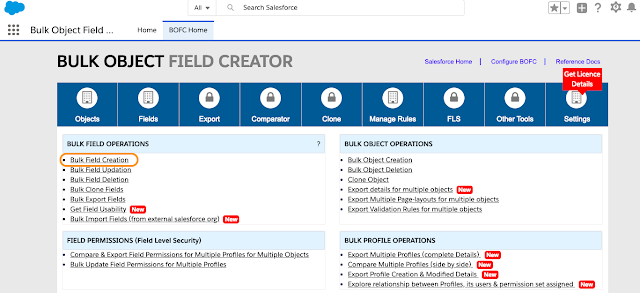 2. Select single or multiple objects (user can select any kind of object standard or custom or both)

3. Select Profile (single or multiple) to assign field permissions and layout (single or multiple) to add newly created fields to page-layouts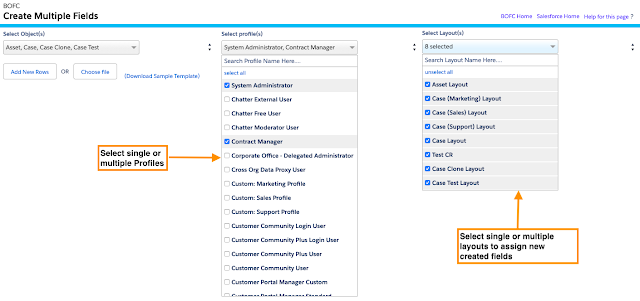 4. User can add multiple Fields in three ways:

Import From Other Salesforce org: User can import custom fields of any kind of object (Standard/Custom/Managed) from any external salesforce org (Production/Sandbox/Developer)
Add New Rows: User can add multiple rows in the table by clicking this button multiple times.
Import using XLS: In this option, user can import set of fields using XLS sheet. The XLS sheet should in the proper format and can easily import any number of fields in the system (Refer: Sample Template)
5. Click on "Import from Other Org" and it will display a popup to choose the external org.

Now click on "Manage Org details" in above image and it will display below screen. Click on "New Environment" button to add a details for external Salesforce org.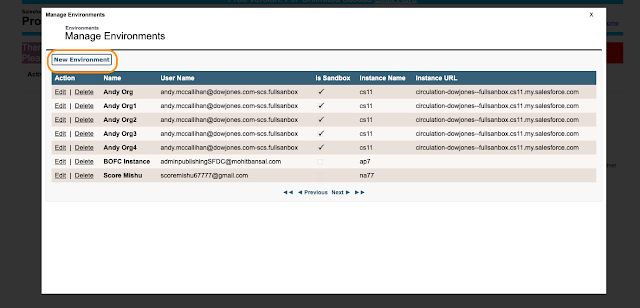 Add details for new environment and Save it (Click ? infront of each field for any help)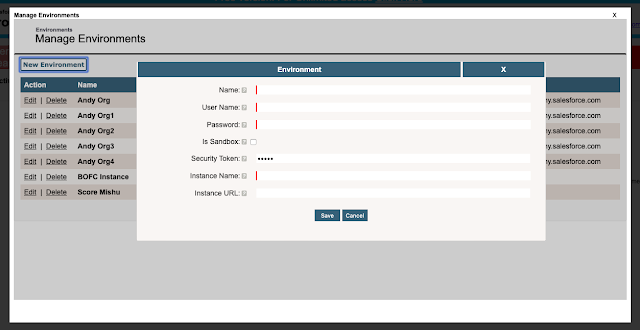 Once details are added and saved, then close this "Manage Environment" popup.
6. Select the Source org which is added in Step 5 and enter the API name of object from which custom fields needs to be imported. Now Click on "Import Custom Fields from Source Org"

Once action in step 6 is completed, the field creation screen will look like below: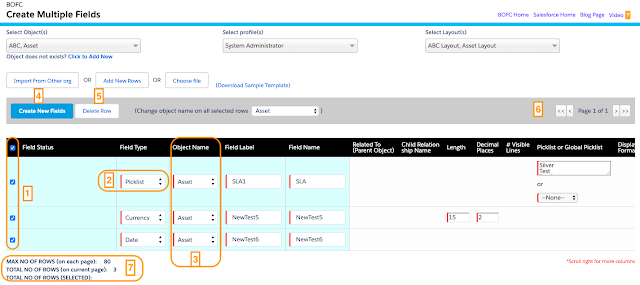 Above image has some features (each number has its description as below):
Select rows which needs to be created as new fields in salesforce
User can modify field type (if required).
User can choose Object name (same or different) on all rows.
Click "Create New Fields" button to create fields in salesforce
Click "Delete Rows" to delete any unwanted rows.
Pagination – This page has a pagination if count of fields is more than 80. Each page shows 80 fields. User can use ">" or "<" or "<<" or ">>" buttons to navigate on other pages.
Counts:
Max no of fields – 80 – Each page shows 80 fields
Total no of rows – Number of rows added in table to create new fields
Total no of rows (selected) – Count of rows selected to create new fields
7. Select rows & verify all the details in required columns or remove error (if any).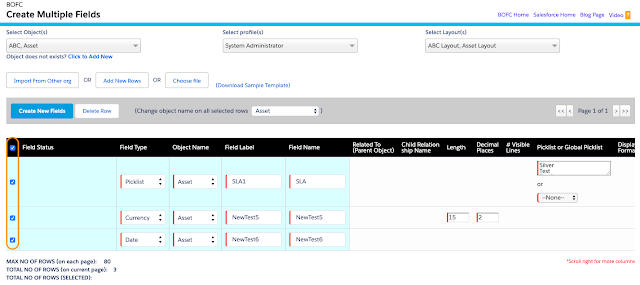 8. Click "Create New Fields" button to add new fields to a selected objects.
9. Once the Create action is completed, it will show "Success or Error" status message in-front of each row.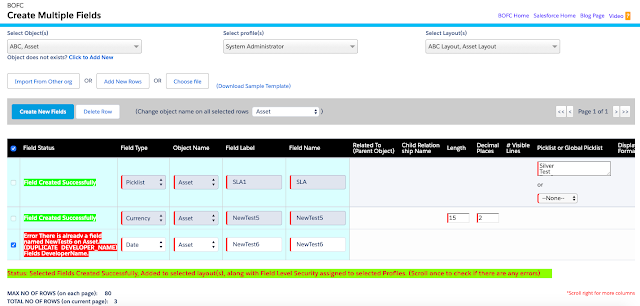 Green

means – Row created successfully as field, assigned field permissions to profiles & assigned to layouts

Red

means – Row error out with some error message
******************************************************************************
Have you started using BOFC yet? Thousands of BOFC users have been able to save time & boost productivity using our Salesforce Metadata app. Click here to install the latest version of BOFC application in your Salesforce instance & explore its complete benefits for you.
For any queries or suggestions, you can write your comment in the comment box or for further assistance contact us at https://www.bofc.io/#contact-frm or mail us: support@tech9logy.com. Our BOFC Expert will help you get the best out of it.
Have a look at step by step detailed video to "Create Custom Fields From External (Other) Salesforce Orgs"