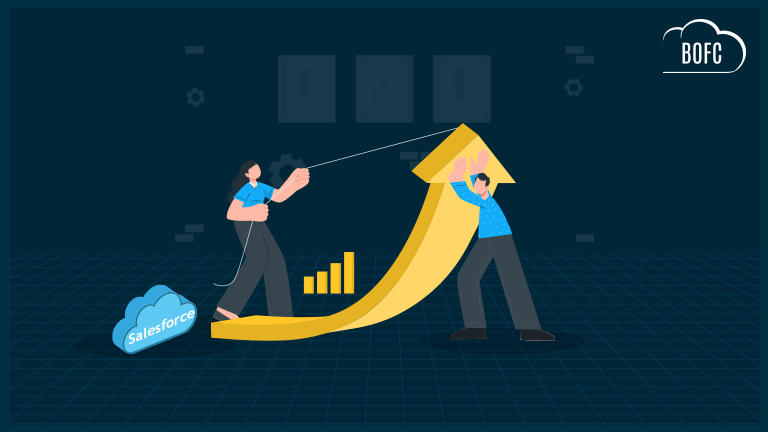 You introduced Salesforce to achieve your organization's goals, but is your Salesforce team plagued with low productivity? Your investment in Salesforce might go in vain if you don't ensure its efficient management. In this blog post, we're going to discuss some factors behind the low productivity of Salesforce admins & developers, and how you can improve it.

NO CHALLENGE = NO MOTIVATION
In Salesforce, org development & maintenance can be very challenging, but certain tasks like metadata management are repetitive, tedious & monotonous. When highly skilled Salesforce developers or admins are compelled to, for instance, add a thousand fields in Salesforce one-by-one as per Salesforce standard process, it could turn out to be frustrating and reduce their productivity. If you could reduce such monotonous tasks, they will be able to channelize their expertise into more important & challenging tasks.

INVISIBLE BIG-PICTURE VIEW
Have you been keeping your Salesforce team off the bigger picture? It is important that you show your team members how their piece of work completes the bigger puzzle so that they are as motivated to complete the puzzle as you are. Instead of assigning monotonous tasks, you could indulge them with insightful decision-making activities so that they can feel a part of the success. Creating & sharing reports that track work status, for instance, metadata comparison reports for insightful decision-making by the team could be a good way to engage them in the big picture.

INSANE DEADLINES & WORK STRESS
Work & deadlines go hand in hand. Manual work in managing Salesforce org metadata can be a lot, needing days to complete. Needless to say, that manual work is prone to more human errors & is more time taking. Occasional work stress due to a priority project is unavoidable, but if that work stress has become a part of the culture, then the alarm is quite clear.

NOT-SO-FRIENDLY WORK PROCESSES
In this age of drag n drop, Salesforce still relies upon manual & tedious work to download/backup, delete, update files, metadata, etc. This can be a tiresome task when they need to process thousands of metadata, files, & attachments manually. Undoubtedly, it can lead to frustration & low productivity.

INSUFFICIENT TECHNOLOGY
Introducing Salesforce is not enough. You might as well require additional applications that support Salesforce and improve the efficiency of Salesforce admins/developers. These applications are designed to save time & facilitate insightful decision-making. They help you leverage automation into your Salesforce management, allowing developers & admins to focus on more important & complex tasks.
Did all these challenges sound relatable? If so, we have got a solution that can help you through most of these. Introducing Bulk Object Field Creator (BOFC), a Salesforce application that helps you save time & facilitate insightful decision making.

HOW DOES BOFC HELP?
BOFC is a revolutionary application that is here to transform the way you manage your Salesforce org metadata. Metadata operations like adding 100 fields to Salesforce can take days. BOFC allows Salesforce admins/developers to perform bulk metadata operations in just a few clicks. It helps you:
Eliminate capability dearth by freeing up your time & allowing you to communicate more with your team.
Work on challenging tasks by reducing your time spent on tedious & monotonous metadata management.
Reduce work stress by taking a major chunk of work off your shoulders.
Make the work process friendly by reducing manual work of Salesforce metadata management.
Fills in the technology gap by providing a reliable solution that is trusted by global organizations.
WHAT CAN I DO USING BOFC?
With BOFC, you can:
Bulk Create Fields
Bulk Export Operations (in XLS)
Compare Multiple Operations (in XLS)
Explore Salesforce Limits (Used, Remaining, or Max)
Find & Delete (In Bulk) Custom Field Reference in all reports
BOFC has become the world's #1 Salesforce metadata management application with 35000+ installations & clients like P&G, Vodafone & more. Still not sure about this application? Connect with our experts to know more & request a free demo.