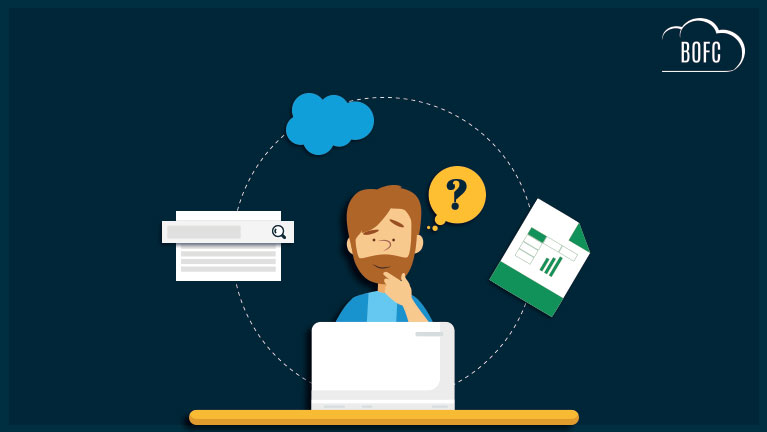 Struggling if you should manage your data first or skip it completely and get on with creating reports that have been pending for weeks now? Save your breath as rambling is not a solution and neither is skipping tasks or compromising with the work quality. In this digital age, there's only one thing that can get you through those tedious & monotonous Salesforce Metadata Operations. Introducing BOFC, the world's #1 Salesforce application designed to reduce your days of work with smart & creative features. Let us show you how.
SAVE YOUR TIME WITH BULK METADATA OPERATIONS
Salesforce metadata often comes in huge numbers. With that, tasks like bulk field creation, deletion, cloning, updating can take days. For instance, if you want to create one single field in Salesforce using the standard process, you will need to follow 6 steps. Now, imagine if you'll need to create a thousand of such fields. Doing the same task repetitively does not require your expertise and is neither worth your time. Why waste days over such tasks when you can simply finish the same amount of work in a fraction of an hour? BOFC allows you to perform multiple operations with just a few clicks. With this game-changer tool, you can:
Create Fields / Objects in Bulk
Perform Bulk Cloning Operations
Manage Multiple Rules (Validation, Workflow, Assignment)
Find & Delete (In Bulk) Custom Field Reference in all kinds of reports
MAKE INSIGHTFUL DECISIONS WITH RESULT-DRIVEN REPORTS
Decision making can be a tough task, especially when you have loads of unsorted data. Searching for data here & there and then making a decision does not sound like a plan at all. But we have one for you. Compare your data across multiple orgs in a user-friendly side-by-side format with BOFC. Could it be simpler? This application also provides you a 360-degree view of Salesforce Object Limitation in a single click. Here's what you can do with BOFC to make insightful decisions:
Compare and Export Multiple Profiles and Permission sets between Multiple Orgs
Compare and Export Multiple Process Builder (in XLS) in Single Click
Compare and Export Multiple Flow Operations (in XLS) in Single Click
CONCLUSION
If you still think that you'd rather take a long way and go for manual work, we'll let you in on the secret to success. "It is not enough to be busy… the question is: what are we busy about?" (Henry David Thoreau). So what are you busy with? Productive work or no-expert bulk work? Talk to our experts today and they'll walk you through all that BOFC has to offer.